\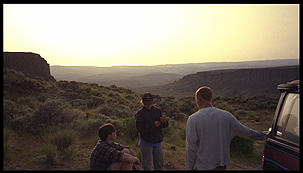 Some memory is in black and white, some of it in color. There are the greyscale images of winter, and the sunsoaked days of spring in the desert. The cool colors of night, and the neon colors of the Olympics at sunset.
That picture perfectly captures the colorspace of that day. After a longish day of rock climbing in the desert; the exhaustion and the warm glow of sunshine. Two years ago, and it's still something I want to get back to. Climbing on a warm spring day in Central Washington while Seattle rains. Coming in the previous night, in the darkness. Waking up in the morning and seeing cliffs. Getting up to coffee strong enough to stand a spoon. (French press, of course. One must have standards.) Mmmmmm. Coffee Sludge. Leaving everything of the rest of my life on the other side of the Cascades.
One thing that I love about rock climbing is how well it focuses you on the task at hand. If your mind wanders, you find out about it pretty damn quickly. Your entire existance is boiled down to the essentials; hand holds, foot holds, and the overwhelming 'I'm gonna die' thought. Of course, you're not going to die if you are careful and have a good top rope.
No comments