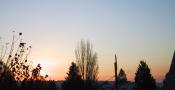 Actually saw the sun rise this morning. That's one of the nice things about this time of year; I can wake up at a decent hour and still see the sun come up.
This is the view from the front of my house, over the houses on the other side of the street, towards the southwest. Ranier is in the lower corner of the image, between the two trees.
The sunset was beautiful too. All that color, all that pollution. And tonight? The Squirrel Nut Zippers (warning link rot), @ the Crocodile. So they're not really swing, and they're not really in style any more. Their live shows are great in a large arena (Memorial Stadium, Bumbershoot, a year and a half ago). I can't wait to see them in a club.
No comments