I've said it before and I'll say it again.
Sometime you have to ask what if everything produces, rather than what if it doesn't. This year's abnormally warm and dry weather has been really good for the pepper plants that we impulsively planted this spring. We've got an Ancho, Golden Bell, Cayenne, Thai Dragon, and Habenero. The Ancho and Golden Bell are coming along nicely with 6 or so peppers per plant.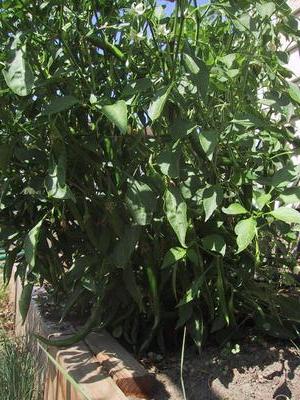 These two pepper plants have 30-40 peppers growing. Each. We haven't found a ripe cayenne yet, but the Thai Dragons are on par with a serrano, maybe hotter. It's uncomfortable for me to eat more than a nibble or two of the fresh pepper. They have enough flavor to stand up to being added early in the cooking process and still have some bite at the end.

The Habenero is the only one that hasn't really set fruit yet. It doesn't have any fruit larger than a tiny bud, but there are a bunch of them ready to grow.
And then there are the tomatoes. I've pruned them so that you can get down the path. It may help control the things, but I'm never quite sure. I think they'd be considered invasive weeds in this climate if they were any more prolific. The cherry has produced a couple so far — I expect the bulk to ripen in September.
No comments