As anyone in town has heard, the Blue Angels did some performances over the weekend. In the 10 years since I've been in Seattle, I've never been out to the lake to see the actual show. I've always been content to see the glimpses of the planes circling back around which ever hill I was on that particular day. But this weekend, there were visitors, so it was a good excuse to do some touristy stuff for a change.
All of these were shot from Lake Washington Blvd with a 50mm lens. (50mm is a very mild telephoto on the digital rebel, generally I use it for all of the baby shots you see here.) Several times, there were direct flyovers of our location, maybe a couple hundred feet up. It was a little loud.
Ben was interested, not really scared, but a bit jumpy when they went overhead.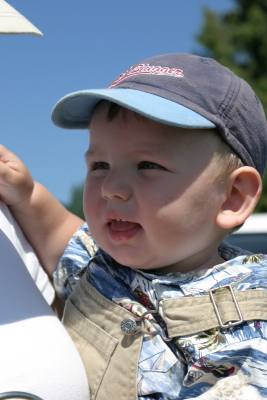 And one nature shot, because it was there.
No comments